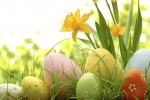 Celebrate Easter with a lake view at Bass Lake. Enjoy our scrumptious Easter Day Champagne Buffet with a bountiful menu, that appeal to all tastes.

The Executive Chef, Johnathan Frabotta prepared a brand new menu for this year - offering an array of breakfast options, sides (both cold and warm), salads, desserts and a carving station, featuring Honey Glazed Pit Ham, Sea Salt Crusted Prime Rib, Roasted Turkey and Chicken Apple Sausage.

The buffet will be served from 10am until 2:30pm.

Advance reservations are required by calling: (559) 692-8857.

Cost:
$43.95 Adults (13+)
$38.95 Seniors (55+)
$21.95 Children (4-12)

Read more...