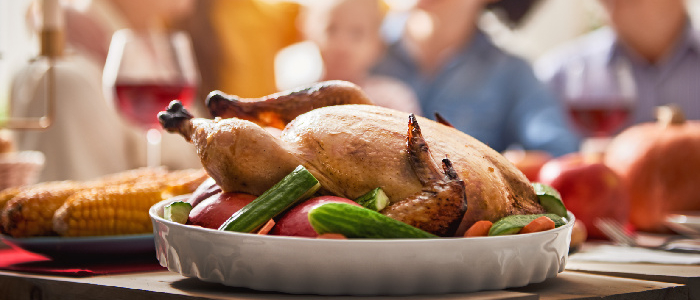 In celebration of the time-honored tradition of giving thanks, treat yourself and your loved ones to a memorable and lavish Family Dinner from Ducey's on the Lake to celebrate this special day.
Select your traditional Thanksgiving dinner option:
Slow Roasted Prime Rib
($99)
OR
Oven Roasted Turkey Breast
($89)
Both options include:
Salad, Mashed Potatoes with Gravy, Classic Stuffing, Sweet Potatoes with Marshmallow "Cream", Green Bean Casserole, Roasted Brussel Sprouts, Freshly Baked Rolls and A Dessert "PieCaken".
SERVICE:
Each meal is ready to serve and offered for Take Out.
Due to Covid-19 related gathering restrictions, we will not be offering the typical Thanksgiving Buffet this year.


ORDERING:
Orders must be placed by Nov. 24th, 2020
Call: (559) 692-8857

PICK UP:
Ducey's on the Lake
Thu. Nov. 26th, 2020
12pm - 2pm



COST:


$99 Prime Rib
$89 Roasted Turkey

Prices include Thankgiving Meal for 4-5 people, a bottle of Champagne or Sparkling Cider. Prices are subject to tax and gratuity.

OTHER
Ducey's on the Lake will be open for breakfast from 8am until 11am and for order pickup from 12pm until 2pm (orders must be placed in advance; no orders will be accepted during pick up).


Bar & Grill will be open from 11am until 4pm with a limited menu for outdoor dining and take out.
MENU
EVENT FLYER