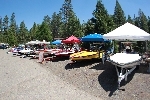 The Fire on the Mountain Production presents:
Bass Lake Boat * Hot Rod * Motorcycle Show
formerly known as V Drive Boat Show
!
The event is hosted in memory of Chris Blevens.
Enjoy a day filled with great music, food, crackle fest and award ceremony.
This event is open to the public and FREE to watch.
Exhibitors entry $30. More information and entry forms:
http://www.fotmevents.net/