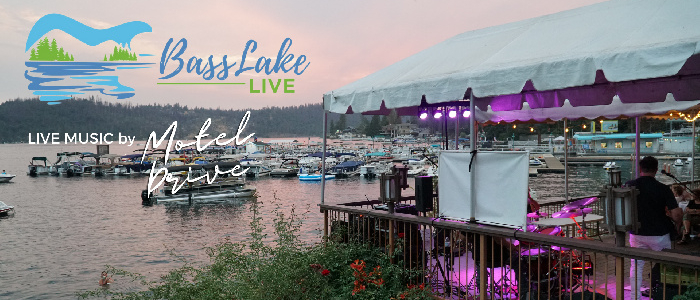 Come enjoy the sight and sounds of Bass Lake!
Join us for Bass Lake Live - summer concert series & lakefront BBQ, held on The Pines Resort's Gazebo Deck and pavers area overlooking Bass Lake!
Live Music by: Motel Drive
Motel Drive is a band out of Fresno, CA under the influence of punk and country roots with a shot of rock 'n' roll thrown in for a sweet and potent distillation of 200-proof American music.
SCHEDULE:
Doors open @ 6:30pm | Music starts @ 7pm | End Time @ 10pm
TICKET PURCHASE:
Table Seating on the Upper Deck will be under shaded outdoor tent. Table service. Full view of the lake

Table Seating on the Lower Deck will be under umbrellas. You will not be able to see the stage from this location. It is self-service area. No table service will be provided.

Tables are shared.

Companion tickets for children 2 and under are available as "Add-on" and complimentary. There is no seat assignment for guests under 2 and theya re expected to stay in the stroller. If you wish to have a seat at the table for your child - please purchase a "Child ticket", regardless of age.

Please practice current CDC guideliness regardless to the COVID-19.

**Seating Map not 100% to scale.

Select your ticket types from the list and your seat will be assigned automatically (you will be able to edit it and select your seat) or purchase directly on the map and select the table and chair individually.
This year we are offering two types of tickets: Concert only and Concert & Dinner. Each option is available for both seating locations on the upper deck (gazebo deck), as well as on the lower deck (pavers deck). See image below for reference.
UPPER DECK SEATING: (stage & lake view; full table service)
ADULT (13+): Concert only: $12

ADULT (13+): Concert & Dinner: $35*

CHILD (3-12): Concert only: $5

CHILD (3-12): Concert & Dinner: $17.50*

Companion (2 and Under) Free
LOWER DECK SEATING: (lakeview; no view of the stage; self service)
ADULT (13+): Concert only: $7

ADULT (13+): Concert & Dinner: $30*

CHILD (3-12): Concert only: $5

CHILD (3-12): Concert & Dinner: $17.50*

Companion (2 and Under) Free
FOOD & BEVERAGE:
Full Bar

No outside food or beverage will be allowed into the venue. EXCEPT for wine or champagne, where a $15.00 corkage fee will incur.

BBQ Dinner Buffet available for purchase: Tri-Tip, Chicken, Pork Ribs, Italian Sausage | Caesar Salad, Potato Salad, Cole Slaw | Baked Beans, Corn on the Cob, Corn Muffins, Butter and of course BBQ sauce | Chef's choice Dessert
T- SHIRTS:
Bass Lake Live T-Shirts are available for sale at event.


CANCELATIONS & REFUNDS:
Cancellations are allowed up to 7 days before the event. Ticket price will be automatically refunded to the original payment source (paypal or credit card). Eventbrite fees are non-refundable.

Ticket transfers, including name changes and postponing to future events are not allowed.

In a very rare case that the event cancellation will be initiated by the band or the Pines Resort (emergencies only), guests will be issued a full refund, including eventbrite processing fees.
CONTACT:
Each ticket has a description below, however for any further questions, please email me at ldarling@basslake.com