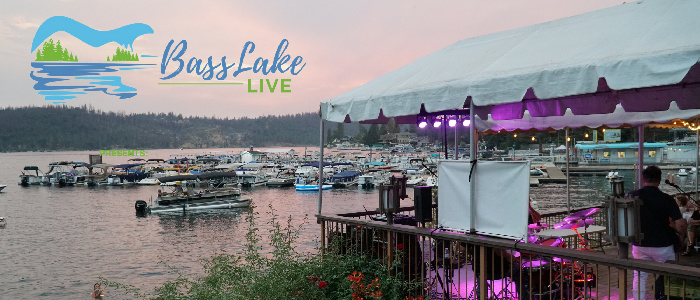 Come enjoy the sight and sounds of Bass Lake!
Join us for Bass Lake Live - summer concert series & lakefront BBQ, held on The Pines Resort's Gazebo Deck and pavers area overlooking Bass Lake!
Live Music by: Classic All-Stars
The "Classic All-Stars" named "Best Bands" to appear on KMPH FOX 26 GREAT DAY NEWS Television program multiple years in a row with encore appearances on New Year's Day for the year 2019, 2020 and 2021. Classic All-Stars performs a variety of music genres, including: R&B, Classic Rock, Cumbias, Latin, Motown, Old School, Reggae, Blues, Oldies, Tejano, Praise & Worship and more . . .
SCHEDULE:
Doors open @ 6:30pm | Music starts @ 7pm | End Time @ 10pm
SEAT PURCHASE:
Seats are not assigned; first come, first serve basis. Tables are located either on the deck, near the stage and under the tent or on the paved patio, near the lake and further from the stage (no view of the stage). Pavers tables are located under (limited) umbrellas. Please practice current CDC guidelines regardless to the COVID-19
Each ticket includes: concert admission and Western BBQ Buffet dinner, gratuity and Eventbrite fees and is subject to sales tax 7.75%
ADULT (13+): $38+tax
CHILD (3-12): $17.50+tax
INFANT (under 3): FREE (requires a purchase of at least 1 adult ticket; no seat)
FOOD & BEVERAGE:
BBQ Dinner Buffet included in the price: Tri-Tip, Chicken, Pork Ribs, Italian Sausage | Caesar Salad, Potato Salad, Cole Slaw | Baked Beans, Corn on the Cob, Corn Muffins, Butter and of course BBQ sauce | Chef's choice Dessert. Full Bar will be open (additional purchase) serving beer, wine & drinks.
No outside food or beverage will be allowed into the venue. EXCEPT for wine or champagne, where a $15.00 corkage fee will incur.
Read more...