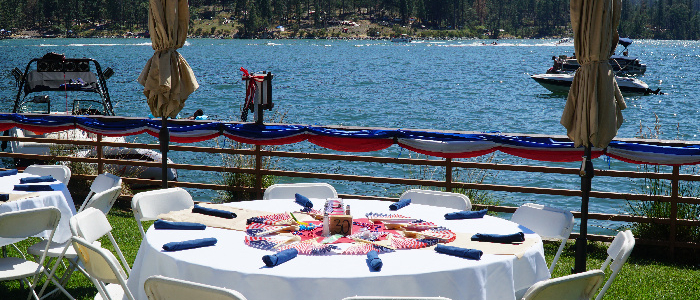 Come join us for an Independence Day Celebration at Bass Lake!
Enjoy live entertainment, the BEST BBQ dinner on Bass Lake and party favors!!!
Fourth of July - The Pines
LIVE MUSIC:

Danny Millsap Band
SCHEDULE:
5:30pm Door Opens
6pm - 8pm Buffet Dinner
6:30pm - 10pm Live Music
Dusk (~9/9:15pm) Fireworks
FOOD & BEVERAGE:
Full Bar available
BBQ Dinner Buffet (2 buffet tables with 2 lines each) designed by the Executive Chef Johnathan Frabotta and his Culinary Team at Ducey's on the Lake will be served from 6pm - 8pm.
No outside food or beverage will be allowed into the venue.
SEATING:
This year, we are going to offer three seating areas; tables will be spaced further apart to allow for social distancing.
All tables are shared. Guests make their table/seat selection at the time of purchase.
No refunds, transfers or seating changes after purchase.Tickets are sold online and reservations are required. We are not able to accept any bookings over the phone or walk-ins.


TICKETS:
>>
GET TICKET
<<
Price includes BBQ Buffet Dinner, party favors, live music, gratuity and eventbrite processing fees. Price is subject to sales tax 7.75%.
Adult: $85 (12+) | Seniors: $75 (55+) | Child: $48 (under 12)
**** We consider a child of age if they are taking a seat & place setting at a table (like a high chair). Children ages 2 and under; in their own carrier seat can enter free of charge. Seating is tight, please note that strollers cannot be accommodated, but you are welcome to park it in the designated area at the event *****
FIRWORKS:
Fireworks are sponsored by Bass Lake Chamber. The show is scheduled to take place at dusk, which is around 9/9:15pm and will last approx. 15-20 minutes.
PARKING:
Parking is free but very limited.
Hotel Guests will be asked to park near their rooms. Event guests will have to claim their passes at the time of ticket purchase.
Parking on the property will be for the resort's patrons only. No public parking on the 4th of July.
CONTACT:
Each ticket has a description below, however for any further questions, please email Laura Darling at ldarling@basslake.com.
Fourth of July - The Pines